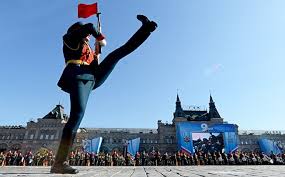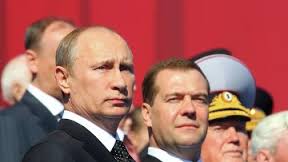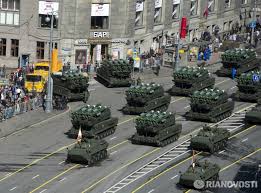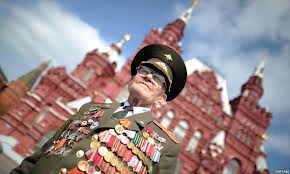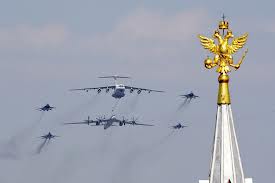 On May 9, Russia is marking its most important public holiday- Victory over Nazi Germany in the Great Patriotic War of 1941-45. Military parades are held all across Russia with the major one in the center of Moscow.
At 10 am sharp the Parade Commander Col. Gen. Vladimir Chirkin ordered to begin.
The show began with a flag-bearing ceremony of the Flag of Russia and the Victory Banner to the sound of the most famous war song – The Sacred War. Then the parade was addressed by Russia's Supreme Commander-in-Chief President Vladimir Putin.
"Dear citizens of Russia, dear veterans, dear servicemen- soldiers, sailors, sergeants, officers, generals and admirals – I congratulate you on the Victory Day. On the day of glory of our nation which defeated Nazism."
The VE-Day remains the major national holiday despite all trials and tribulations of the latest decades and Russia honors the heroic deed of those whom we owe our freedom and life, Putin said.
"We will always remember that it was Russia, the Soviet Union, that ruined the misanthropic, bloody, arrogant plans of the Nazis and didn't let them rule the world. Our soldiers defended freedom and independence by defending their motherland without sparing themselves. They liberated Europe and claimed the victory whose glory will live on forever."
"We remember what the tragedy of war means and will do everything so that nobody will ever dare to unleash it anew, threaten our children, our homes and our land". Putin said in his address. "We will do everything to strengthen security on the planet. We are to justify hopes of our victorious fathers and grandfathers, overcome all challenges and leave a prosperous, strong and free Russia to our children. I congratulate you on the Great Victory Day!"
This year's Parade was commanded by Russian Ground Forces chief Col. Gen. Vladimir Chirkin and hosted by the Russian Defense Minister and Army Gen Sergei Shoygu.
The Red Square parade featured troops, military hardware, fighter jets, ballistic missiles and world famous aerobatics teams, including Tiger and BRM-3K "Rys" armored vehicles, new BTR-82A armored personnel carriers, T-90 tanks, Buk-M2 (SA-6 Gainful) and S-400 Triumph anti-aircraft weapon systems as well as Msta-S self-propelled howitzers, Pantsir S-1air defense system, Iskander-M and Topol-M ballistic missile systems.
The parade was concluded by a spectacular air show of 68 aircraft flying over the Kremlin.
Unfortunately, fewer and fewer veterans celebrate this great day over the years but many of them managed to make it this May 9 and mark the 68th anniversary of the 1945 Victory. They day is never to be forgotten.
Apart from Moscow, various events and festivities are held throughout the country.
This glorious Victory Day will be concluded by a splendid firework.